Creations by David Biton
David Biton, a leading international stylist and artist in his field, is the creative mind behind the Davis Brand.
Davis specializes in hair extensions,and hair styling for special occasions, bridal hair-up and shows.
David Biton has published books presenting his hair creations and step-by-step teaching methods in Israel and worldwide.
These books are a great resource to learn how to create beautiful up-styles for special occasions and bridal hair!
A few sample pages:
The essential books of 64 pages each portray a stunning gallery of romantic and classic beautifully presented looks of
gorgeous hair ups for bridal and special occasions. The books provide hairstyling professionals with inspiration and information
on Davis' most recent collection for clients, stylists and students alike.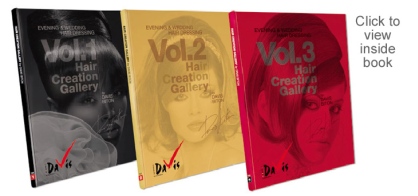 Order from Davis Hair
The long awaited 80 pages of 19 beautiful new hair-up looks using a combination of classic long hair techniques along with
contemporary styling. A collection of eye-catching shapes shows Davis unique artistic creations cater for countless tastes.
Each style is illustrated in step–by-step detail with stunning photographic sequences accompanied by clear instruction in
English and French together with 4 DVDs. 8 hours of easy to follow teaching methods.
Order from Davis Hair